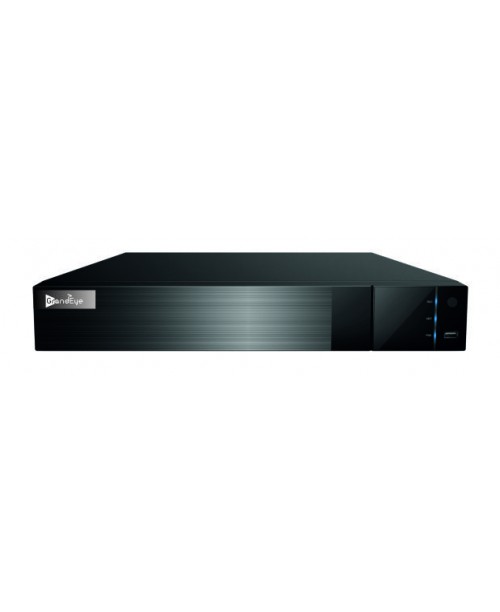 4/8 Network video recorder
Product Code:
GE-NVR 5104-ALS1
Support 4 CH 5MP / 4MP / 3MP / 1080P / 960P / 720P / IP input
Adopt standard H.265 high profile compression format to get high-quality video at much lower bit rate
Intuitive and user-friendly Graphic User Interface ( GUI ), Windows style operation by mouse
Multi-mode recording: manual / timer / motion / sensor
GE-NVR 5104-ALS1
GE-NVR 5104-ALS1 series are 4 CH 5MP / 4MP / 3MP / 1080P / 960P / 720P high definition NVRs, which adopt the most advanced SOC technique to ensure high definition recording in each channel and realize outstanding robustness of the system. GE-NVR 5104-ALS1 series support 4 CH IP input, simultaneous 4 / 8 CH playback, and 1080P high definition display. The series of product can meet different security requirements of home, financial, commerce, enterprise, transportation and government, etc.
Availability:
In Stock
FEATURES
Playback : 16 CH simultaneous playback
Search : time slice, time, event ( manual, sensor, motion ), tag search
Express and flexible backup via USB, network and so on
Pentaplex : preview, record, playback, backup and remote access
DHCP, DDNS, PPPoE network protocol and CMS supported
Remote control via IE or CMS : preview, playback, backup, PTZ and configuration
Dual stream technology for local storage with high definition, remote network transmission and remote surveillance with mobile device
Multi-user online simultaneously
Authorization management, log view and device status view
1080P output, true high resolution display
Support PTZ preset and auto cruise, up to 255 presets and 8 cruises
Support NAT function and QRCode scanning by mobile phone and PAD
Powerful smart phone & Pad surveillance with iOS and Andriod OS
System
GE-NVR 5104-ALS1
GE-NVR 5108-ALS1
GE-NVR 5116-ALS1
GE-NVR 5116-ALS2
Compression
1 / 2.8" Progressive Scan CMOS
OS
Embedded Linux
Video
Network Input
4 CH IPC input
8 CH IPC input
16 CH IPC input
16 CH IPC input
Network Bandwidth Access
40Mbps
64Mbps
80Mbps
80Mbps
Network AccessFormat
5MP / 4MP / 3MP / 1080P / 960P / 720P@25 / 30fps
Output
HDMI × 1 : 4k x 2K / 1920 x 1080 / 1280 × 1024 (HDMI-VGA cable optioanl, 1920 × 1080 / 1280 x 1024)
Audio
Network Input
4 CH IPC, audio
8 CH IPC input
16 CH IPC input
16 CH IPC input
2-way Audio
No
No
No
No
Local Output
RCA × 1
Record
Record Stream
Dual stream recording
Resolution
5MP / 4MP / 3MP / 1080P / 960P / 720P
Mode
Manual, timer, motion, sensor
Playback
Simultaneous Playback
Max 4 CH
Max 8 CH
Max 16 CH
Max 16 CH
Search
Time slice / time / event / tag search
Smart Search
Highlighted color to display the camera record in a certain period of time, different colors refers to different record events
Function
Play, pause, FF, FB, digital zoom, etc.
Alarm
Mode
Manual, sensor, motion, exception
Input
No local input,4 CH IPC alarm, input Alarm
4 CH local input,8 CH IPC alarm, input Alarm
4 CH local input,16 CH IPC alarm, input Alarm
4 CH local input,16 CH IPC alarm, input Alarm
Output
No
No
No
No
Triggering
Record, snap, preset, e-mail, etc.
Network
Interface
RJ45 10 / 100 Mbps × 1
Protocol
TCP / IP, PPPoE, DHCP, DNS, DDNS, UPnP, NTP, SMTP
Web Client
Max 10 users online
Mobile OSDevice
OS
iOS, Andriod
Storage
HDD
SATA × 1
SATA x 2
Backup
Local Backup
U disk, USB mobile HDD
Network Backup
Yes
Port
USB
USB 2.0 × 2 ( one in the front panel and the other in the rear panel )
Remote Controller
Optional
Others
Power Supply
DC 12V
Consumption
≤ 5W ( without HDD )
Dimensions(mm)
255 210 42 ( W D H ), 300 × 270 × 55 ( W × D × H ) 300 × 248 × 52 ( W × D × H )
Work Environment
-10 ~ 50 C, 10% ~ 90% humidity
Write a review
Note:

HTML is not translated!

Feature

Feature

Powerful lens for long distance surveillance

Support

Support

Remote Internet viewing is our specialty.

Residential

Residential

It's reliable and fast home internet options.

Commercial

Commercial

High Quality Products, Customer Service.
Shop No. 338/1, G.M. Complex,
Ganthipuram Sixth St, Gandipuram,
Coimbatore, Tamil Nadu 641012

Phone Number :

+ 098433 59251, + 90255 21115




Email Id :
nidhienterprisescbe@gmail.com
Newsletter
Entrust the professionals at GE to care for your system.